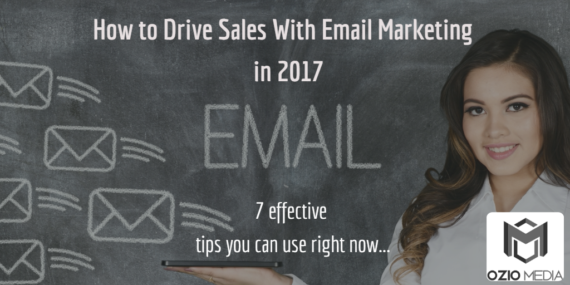 Are you wondering how to drive sales with email marketing in 2017?
If you're looking for a way to generate more leads for your website, it's email marketing.
Despite the articles you'll find online that say "email marketing is dead," that's far from true if you actually know what you're doing.
Email Marketing Is the Hottest Trend of 2017
Email marketing is delivering amazing results, making it a hot marketing trend for the year.
The average return on investment for email is reported to be $44 for every $1 spent… well worth the time to do it right.
How can you drive sales with email marketing for your business?
Here are some tips to incorporate in your email marketing campaign.
Tips for Effective Email Marketing in 2017
1. Skip the Images
They may look pretty, but putting images in your email marketing campaign can hinder your returns.
The reason is simple. Incorporating an image often lands your email in the "Promotions" Gmail tab versus the "Primary" tab.
These emails are more frequently left unopened before being sent to the dreaded "Trash" bin.
Drive sales with email marketing by skipping the pictures in your campaign content.
2. Personalize Emails to Individuals and Audiences
Personalizing an email increases the click-through rate by 14%.
Don't miss out on this boost in customer engagement — personalize each message to target specific subscribers in the subject line and the first line of the message.
3. Segment Users
Segmented emails, or emails that are varied to target specific audiences, comprise 58% of all email marketing generated revenue.
Make sure to create special email lists — whether you choose to break them down by demographic, web page views or number of downloads, the possibilities are endless.
You can better drive sales with email marketing by segmenting your audience and sending them different content.
4. Don't Forget to Sell
It's great if your email gets opened, but completely redundant if there is no call-to-action.
Give them a reason to buy something. You won't drive sales with email marketing if there is no lead generation from your campaign.
5. Follow Up with Users that Don't Open Emails
The chances of a marketing email being opened significantly increases when multiple emails are sent to the same consumer. Persistence pays off.
You have a better chance to drive sales with email marketing if you're consistent and follow up with your customers.
Use email automation to make sure you're reaching your subscribers at the right time.
6. Upgrade Your Autoresponder
Companies with an automated email system are 133% more likely to send an email considered "relevant" by their customers.
You can capitalize on this by using great autoresponder software, like the kind found at GetResponse.com.
The automated process is more efficient than manually responding and will send messages for you at the optimal time.
6. Keep Your List Active
Keep your list active by frequently following up with subscribers.
Follow up with soft bounced emails, which were temporarily undeliverable for reasons like a full inbox, to make sure they get delivered.
If your email was hard bounced, which will never be deliverable, continue on to cleaning your subscriber list.
7. Cull Inactive Subscribers
The best way to attract new customers and actually drive sales with email marketing is to cull dead subscribers from your list regularly.
This ensures your content is targeting viable leads.
Most email platforms charge you a set rate per subscriber total number of subscribers. Some platforms even charge you for your unsubscribes that you haven't deleted from your list. Cleaning up your email list also gets an optimum ROI from your campaign.
Want more tips to drive sales?
CLICK HERE to download your free ebook