Written by: Ozio Media
If you want your internet marketing campaign to become truly successful you must establish a line of trust with visitors to your website.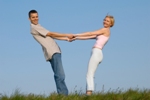 Business relationships are built with trust and integrity. It's important to convey both of these characteristics on your site.
Who Are You?
You may think that using a range of pronouns like "we" and "us" makes your website more personal and speaks to potential clients on a friendly basis, but what are you really saying? You are keeping your website anonymous.
It's important to list the name of your real estate agency in several locations on the website. What's even better is listing the names of your agents as well.
Visitors and potential clients are much more likely to begin a business relationship with you if they know who you are.
What Are You Really Telling People?
Take some time and analyze your website. If you were a first time visitor what would the content on your site tell you? You are not only selling properties, essentially you are selling your services.
Besides providing detailed listings, provide informative details about your agency.
How long have you been in business? What awards have you won? Does your agency have any specialties?
Let People Get to Know Your Agents
Dedicate a web page or part of one to your agents. Create a bio or profile for each agent (this is more feasible for smaller agencies with fewer employees).
State how long each agent has been in the real estate business and how long they have been part of your agency.
List all certifications, awards, specialties and any other pertinent information. Keep details relevant to business.
A bio that goes beyond a simple generalization of your agents not only looks and reads better, but establishes more trust.
Reanalyze the content on your website. Ask trusted friends or family members to check out your site as if they were potential clients.
Inquire about what the website says to them and ask what, if any, changes should be made.