Written by: Ozio Media
Ozio Media is now accepting credit cards via our new invoicing system.
Our new invoicing system will allow you to pay via Visa and MasterCard via our secure payment gateway for all issued invoices.
The new invoicing system will also enable you to keep track of all issued invoices so that you can conveniently view and download your invoices in PDF format.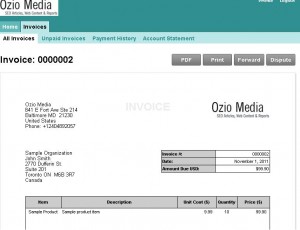 If you are on a monthly content marketing plan, we can also set up reoccuring billing so that your montly projects are invoiced for automatically.
This new invoicing and billing system has already gone into effect so the next time that you place an order with us, you will receive an invoice notification from us that will allow you to log into your client account and view and pay your invoices.
If you have any questions about the new invoicing system, please feel free to send us an email.
If you have any suggestions that would make using the invoicing system easier for you, please feel free to send your feedback after you try it!